Young Israel of Toco Hills
Welcome!
At YITH, we feel part of a larger family and our shul is our second home. Come join us for Shabbat and experience the warmth of the Young Israel of Toco Hills in Atlanta, Georgia!
Upcoming Events at YITH
YITH Coat Drive
We are collecting coats, jackets and sweaters for all ages to donate to the needy, including the Shearith Israel Women's Shelter and needy
families in Israel. There will be three cartons in the shul, 2056 LaVista Road, (2 in the lobby and 1 near the coat closets) where you can drop off
items from now until November 23
YYP Improv Comedy Night
All young adults 21+ are invited to a night of improv comedy at Dad's Garage on Saturday night, November 8th. Tickets are available with YITH at a discounted rate of $15 and can be purchased by clicking here. Tickets must be purchased by November 6th, and no tickets will be available the night of the show. We will be meeting at the venue. For more information click on the flyer. Questions? Contact Peter Rivner at peter.rivner@gmail.com.
Building Dedication Weekend Scholar-in-Residence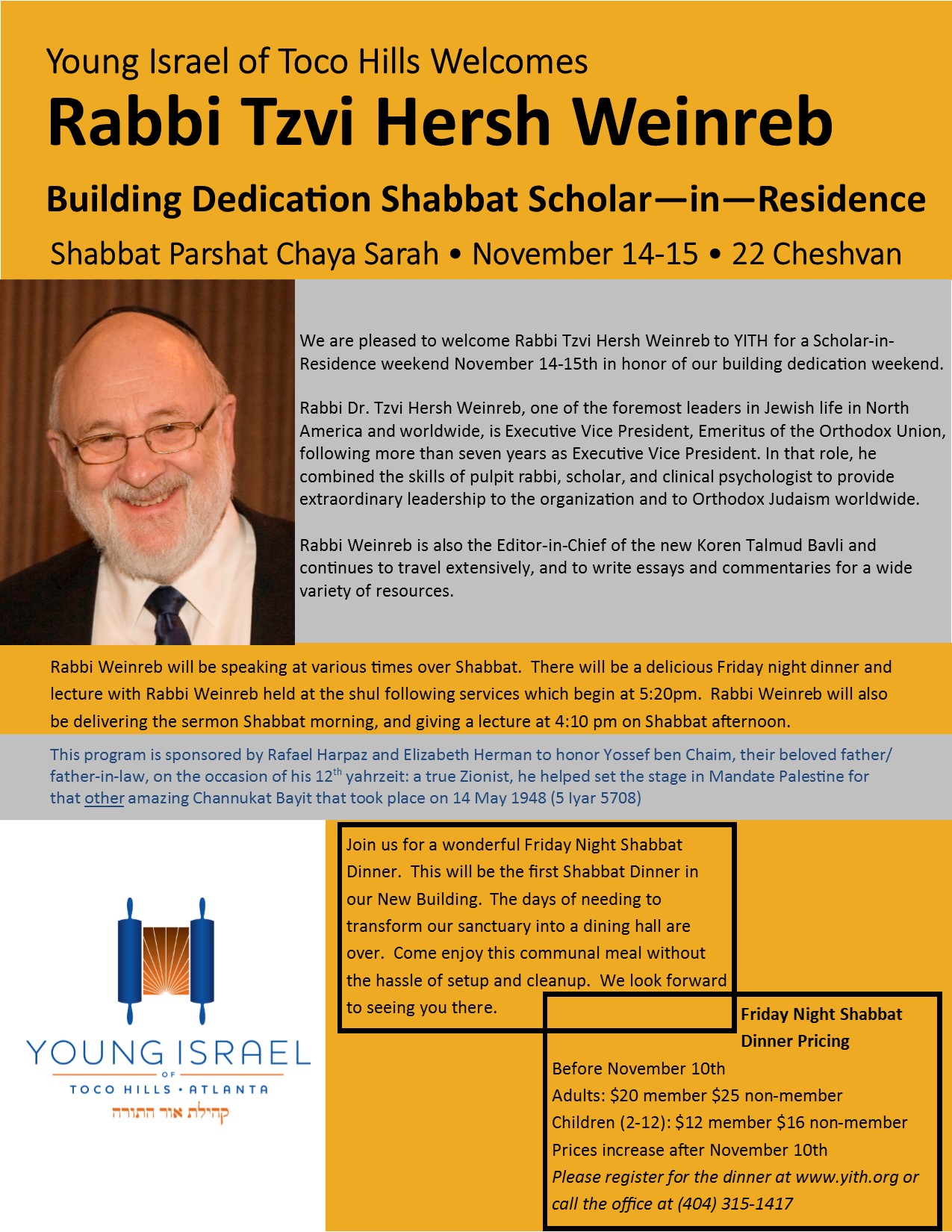 We are pleased to welcome Rabbi Tzvi Hersh Weinreb, Executive Vice President, Emeritus of the Orthodox Union, to YITH for a Scholar-in-Residence weekend November 14-15th. Rabbi Weinreib will be speaking at various times over Shabbat, and there will be a delicious Friday night dinner held at the shul. To register for Friday night dinner visit the event page at yith.org or call the office at (404) 315-1417
Our New Building
The dream of our own Mikdash Me'at is now a reality! We encourage you to visit us and take note of the exceptional work done by our new building committee and the construction team.
Become a part of the process by pledging to the Capital Campaign today. Please contact the New Building Committee at newbuilding@yith.org for more information.
Sat, 1 November 2014 8 Cheshvan 5775