Young Israel of Toco Hills
Welcome!
At YITH, we feel part of a larger family and our shul is our second home. Come join us for Shabbat and experience the warmth of the Young Israel of Toco Hills in Atlanta, Georgia!
Upcoming Events at YITH
Yamim Noraim at YITH
It is that time of the year again, Yamim Noraim (High Holiday) season is right around the corner! All information about the Yamim Noraim, as well as all online orders, are now up on the website! Please click here to place your orders and access davening times, events and PDF versions of order forms. If you have any questions about the high holidays at YITH please contact the office at admin@yith.org.
Events Over the Yamim Noraim
There are many events for all ages over the high holiday season! Click the flyer to the left to view all upcoming events. If you have any questions or need more information please contact the office at admin@yith.org or 404-315-1417.
Elul Lecture Series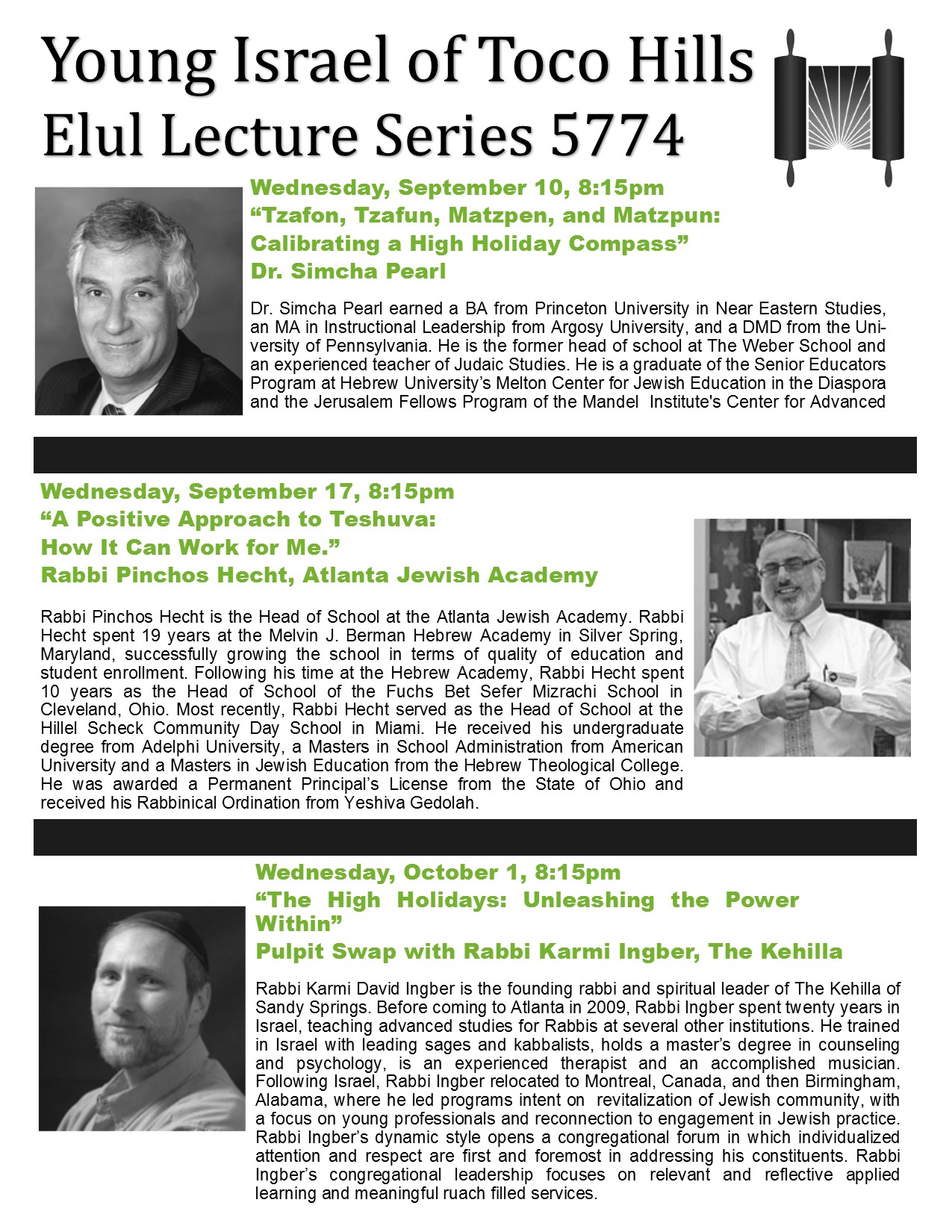 All are invited to Young Israel of Toco Hills on Wednesdays at 8:15pm for an inspiring Elul lecture series to get us ready for the Yamim Noraim Season!

The next lecture will be given on September 17th by Rabbi Pinchos Hecht on the topic "A Positive Approach to Teshuva: How It Can Work for Me".

The final lecture will be a pulpit swap between Rabbi Starr and Rabbi Karmi Ingber of The Kehilla in Sandy Springs on October 1. Rabbi Ingber will speak on the topic "The High Holidays: Unleashing the Power Within".
For more information about the series and the speakers please click on the flyer.
Pre-Selichot Kumsitz
Please join us at the shul for a pre-selichot kumsitz concert on the first night of Selichot on Motzei Shabbat, September 20th at 10:30pm. The kumsitz will be led by our very own Dixie Boychiks to get us in the proper frame of mind for the Yamim Noraim season, and will be our final event in the current building! Selichot to follow at midnight.
Our New Building
The dream of our own Mikdash Me'at is close to becoming a reality! We encourage you to drive down Lavista Road and take note of the exceptional work being done by our new building committee and the construction team.
Become a part of the process by pledging to the Capital Campaign today. Please contact the New Building Committee at newbuilding@yith.org for more information.
Mon, 22 September 2014 27 Elul 5774