Young Israel of Toco Hills
Welcome!
At YITH, we feel part of a larger family and our shul is our second home. Come join us for Shabbat and experience the warmth of the Young Israel of Toco Hills in Atlanta, Georgia!
Upcoming Events at YITH
Iran, ISIS, and the Changing Middle East: Implications for Israel and the US with Ken Stein
Since 1977, Professor Kenneth W. Stein has taught Middle Eastern history, political science and Israel studies at Emory University, where he holds a joint appointment in the History and Political Science Departments. Stein is the author of dozens of scholarly publications, including The Land Question in Palestine, and a 1400 page documentary reader, History Politics and Diplomacy of the Arab-Israeli Conflict. Dr. Stein has also received many awards for teaching excellence, mentoring students, and internationalizing the Emory curriculum.
During the first fourteen years of the 21st century, the Middle East remains awash with change. Autocratic Arab leaders have been pushed from power, some Arab states are imploding. Confessional, tribal, ethnic and religious identities have accompanied fanatical Islam and virulent anti-Semitism. Has the Arab-Israeli conflict already become a theological one? However you answer the question, there are dramatic implications for Israel, the US, and the region for decades to come. Is the US—Israeli relationship strained, or is it only personal between leaders? Either way, what are the possible intermediate and long term implications for both countries?
Sunday, April 19th at 9:30am at Young Israel of Toco Hills. This event is free to attend, breakfast is available for $5 members, $8 non-members when registering by April 16th. RSVP by clicking here.
Yom Ha'atzmaut at Young Israel
We invite you to our annual community-wide Yom Ha'atzmaut celebration at Mason Mill Park! Thursday, April 23rd from 5:00-7:00 pm, 1340 McConnell Dr. There will be live music, daglanut/flag dancing, moonbounces, a choir performance by AJA students and more! We are honored to welcome Opher Aviran, Consul General of the State of Israel to the Southeast to the festival as we bid him farewell and thank him for his service to the Atlanta Jewish community.

This event is free to attend, delicious Israeli BBQ will be available for purchase. Don't waste your time in line, order dinner in advance online by clicking here!

Thank you to our community sponsors JFGA, AJA, JKG and the Israeli Consulate General to the Southeast!
JNF-YITH Shabbat with Yedidya Harush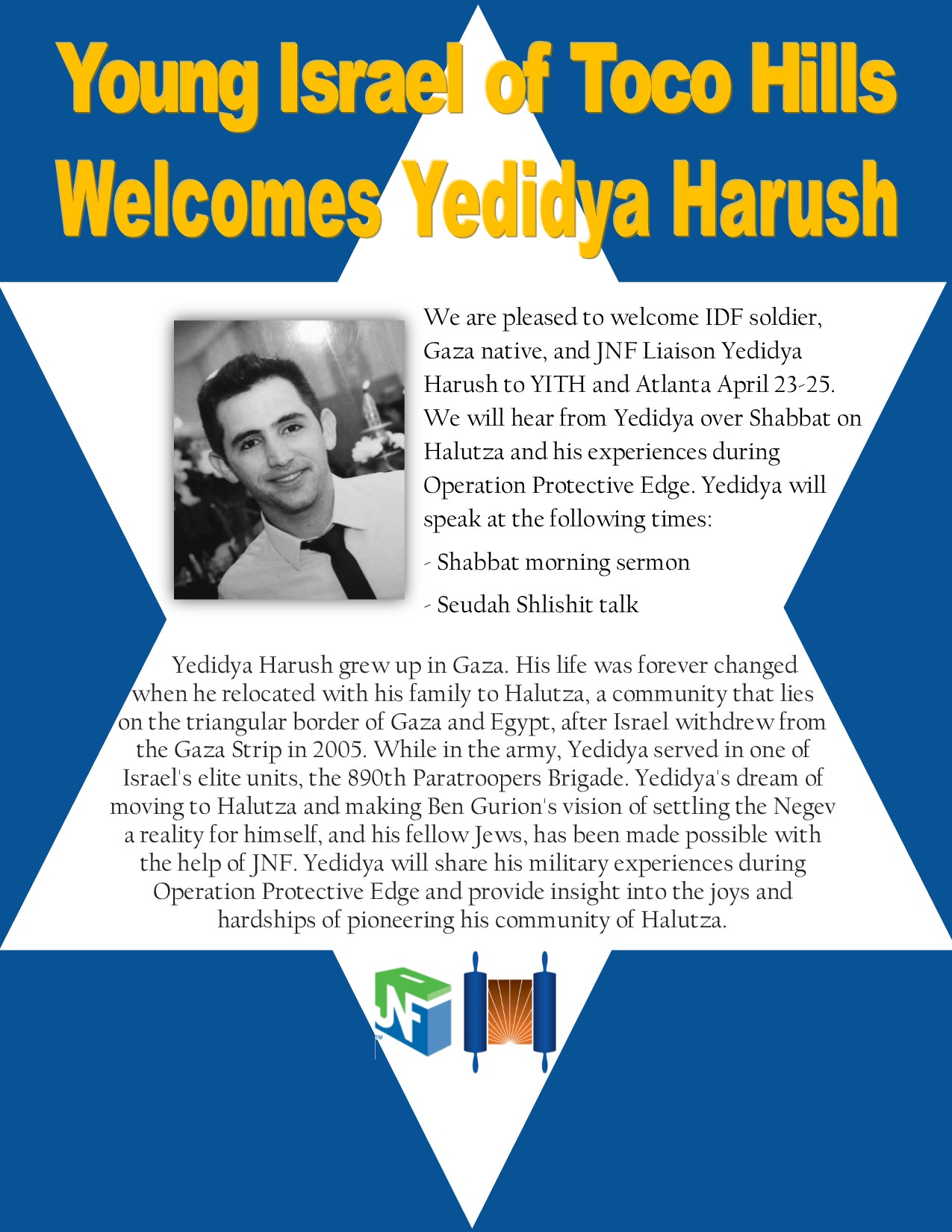 We are pleased to welcome IDF soldier, Gaza native, and JNF Liaison Yedidya Harush to YITH and Atlanta April 23-25. We will hear from Yedidya at various times over Shabbat on Halutza and his experiences during Operation Protective Edge. Please click on the flyer for more information.
YITH Book Club - Give & Take by Adam Grant
Join us for a YITH Book Club discussion led by Jay Cinnamon and Gabby Sirner-Cohen at the home of Mindy and Jay Cinnamon on Sunday, May 3rd at 7:30pm.
The book "Give and Take" by Adam Grant is a best-seller book that has nothing to do with Jewish life and yet has everything to do with Jewish life. An engaging read, it leads one to examine his/her own personality traits, and, along the way, discover the key ingredients to crafting healthy and vibrant family relationships and a spiritually meaningful community construct.

If you would like to borrow a copy of "Give and Take" please contact the shul office or rebecca.winter@gmail.com.
Yom Yerushalayim Film Screening
In honor of Yom Yerushalayim, we will be screening the film Beneath the Helmet here at YITH on Sunday, May 17th at 5:00pm. Deputy Consulate General Ron Brummer will speak following the film. The event is free to attend, get your "movie tickets" by clicking here.
Omer Chavruta Learning
We would like to, as a shul, complete studying the five books of the Torah during the Omer. This is a special opportunity for families to study together or for members to form chavrutot with one another so that we can prepare to celebrate receiving the Torah once again this Shavuot. Sign up by clicking here!
Our New Building
The dream of our own Mikdash Me'at is now a reality! We encourage you to visit us and take note of the exceptional work done by our new building committee and the construction team.
Become a part of the process by pledging to the Capital Campaign today. Please contact the New Building Committee at newbuilding@yith.org for more information.
Tue, 21 April 2015 2 Iyyar 5775